Inspire FT2 Functional Trainer Reviews for 2022 [Top Expert Picks]
What is a Functional Trainer?
Functional Trainers are one of the most versatile pieces of gym equipment that you can buy especially for home workouts. However, as useful as cable machines are, they often lack that familiar free weight feeling that so many of us know and love. It is just a fancy term for a dual weight stack system. These machines consist of 2 weight stacks and a set of pulleys, allowing you to perform a large variety of exercises.
Our Top 3 Picks
Sounds simple enough. These machines are found in every commercial gym in the country. There are a lot of home models available nowadays too, so if you have the space and cash, you can own one yourself.
Why is it called a functional trainer?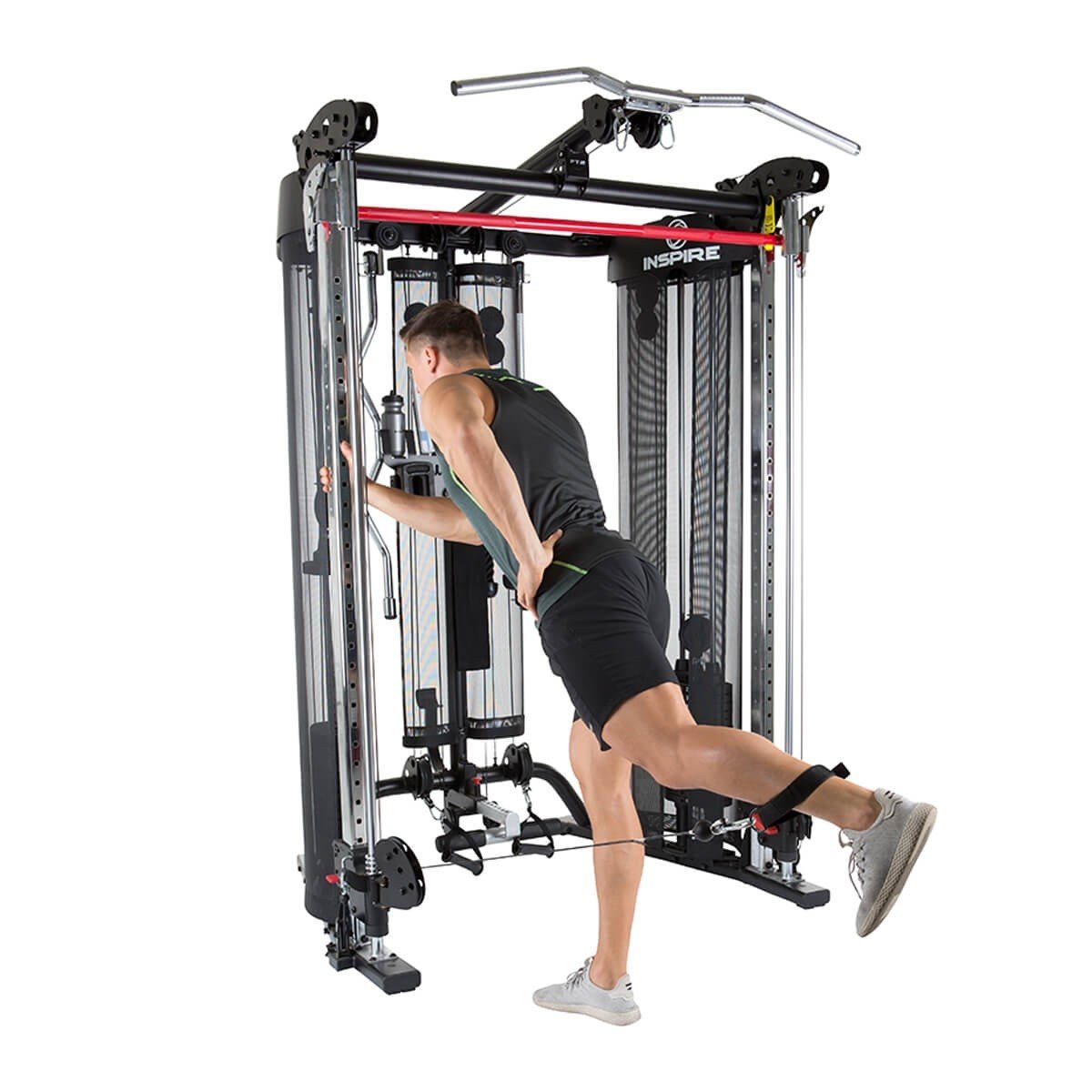 Historically, functional training was something we did to prepare an injured individual to return to daily tasks after an injury. To do this, you have to strengthen and train with similar movements.
Our daily tasks rarely happen in a single plane, that is, very few tasks occur in a purely up/down or side to side motion. In the real world, we are constantly working in multiple planes at the same time- most daily tasks include diagonal and rotational movements as well as vertical and horizontal.
That's why therapists working on functional training spend so much time working on core strengthening and stabilization exercises that involve these diagonal and rotational movements. Having a piece of fitness equipment that allows you to lift weights at varying heights and angles makes this type of exercise a lot easier to perform. Turns out a dual weight stack system with adjustable pulleys does the trick nicely. That's why we call these machines functional trainers.
The name stuck and they work equally well for healthy individuals. The biggest benefit of a functional trainer is the exercise variety they offer: with the right attachments and equipment, there's no exercise you can't do with one of these machines. You can also switch between exercises rapidly, which is great if you are looking to burn more calories and keep your heart rate up.
What is Inspire FT2 Functional Trainer?
The Inspire FT2 Functional Trainer is the perfect mix between a traditional functional trainer and a free bar smith machine. The unit flows seamlessly between standard functional training and your more traditional free bar training simply by switching a tab from the front of the carriages to the back smith bar. What I like most about this unit is the versatility behind it. In total, there are eight pulley points on this machine (2 high, 4 low, and 2 adjustable carriage pulleys). Unlike a traditional free-weight smith machine, no additional plates are needed to maintain full functionality. Even the optional leg curl/extension can be linked directly to the weight stacks, thus maximizing time and space efficiency.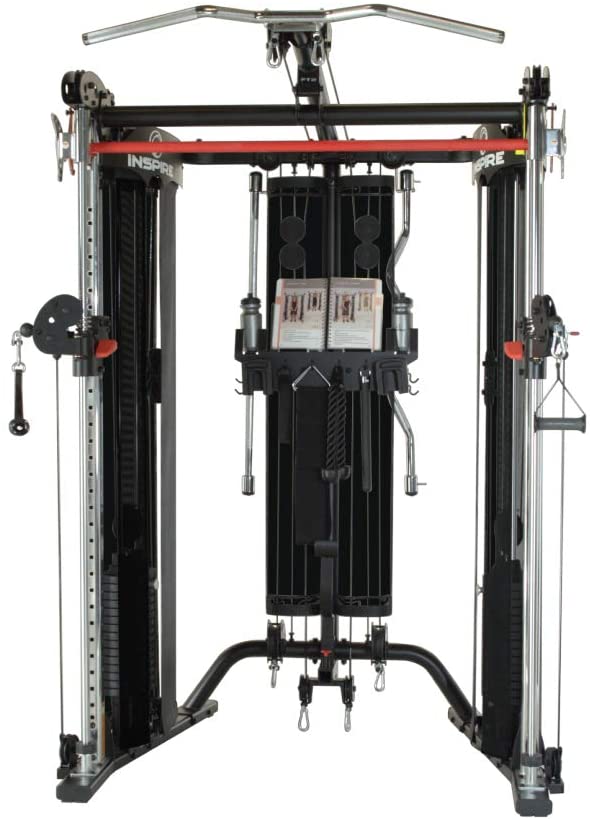 The Inspire FT2 Functional Trainer also can increase the height of the top pulleys at the time of installment. Not only does this increase range of motion, but it also accommodates those with lower ceiling heights. With a slightly higher learning curve than a more traditional free weight system.
There are a lot of very helpful videos exercises to refresh and learn new movements for the Inspire FT2. At Johnson Fitness & Wellness we are available as a resource for our customers any time they have questions.
Overall the machine is built extremely well and has a very smooth feel to both the pulleys, as well as the smith bar. Backed by a limited lifetime warranty, the Inspire Fitness FT2 is a unit that will last for many years and offers some of the best versatility on the market today.
Product Specifications
Item Model: FT2

Product Dimensions: 58 x 61 x 88 inches

Item Weight: 2.2 Pounds (825 lbs)

Age Group: Uni-Sex Adult

Brand: INSPIRE Fitness

Color: Chrome, Matte Black

Customized Seat: Adjustable seat height & 3-point back tilt

Bearings: Precision Steel Belt System

Frame: Heavy-Duty Round & Rectangular Steel
Workout Stations of Inspire Fitness FT2 Trainer
The Inspire FT2 Functional Trainer review looks at the 5 workout stations in more detail so that you can fully understand the advantages and drawbacks of this cable machine.
Smith Machine
It's inconceivably simple to utilize, not least because of the low 9kg beginning weight. All the more significantly, notwithstanding, you don't need to invest time and energy stacking weight circles onto the bar; you simply open the pin into the stack and lift. It's just basic.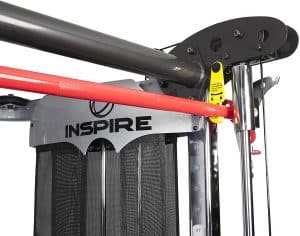 Be that as it may, the main advantage, at any rate assuming you lift weighty like me, is certainly the weight multiplier. With a straightforward snare, the weight multiplier dramatically increases the Smith machine's opposition from a good 86kg to a titanic 208kg.
The Smith machine bar itself is additionally exceptionally flexible. For instance, you can raise it to the top lockout position while you're utilizing the links. Be that as it may, you can straightforwardly Inspire Fitness FT2 practices like Romanian deadlifts and twisted around columns by utilizing the FT2's 15cm least stature, which, unlike other Smith machines, permits you to get a full stretch and build more muscle.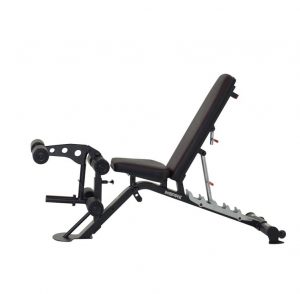 Adjustable Weight Bench
The SCS Adjustable Commercial Bench measures 183 x 66 x 120 cm (L x W x H) and weighs 34kg (75lbs). Additionally, it has 5 backrest angles minus 20, flat, 30, 45, 65, 85 degrees incline so that you can emphasize all the heads of your chest and build more proportional pecs.
In a like manner, you can also adjust the seat over 4 angles. This adjustability is especially useful for incline presses because a raised seat provides you with extra stability, thus making you stronger.
Pulley System
The Inspire Fitness FT2 Functional Trainer has a sum of 8 pulleys: 4 x 2 x 2 (L x W x H). Even though they each serve various capacities, each pulley produces rubbing-free development for a more regular scope of movement. This movement empowers you to enroll more muscle filaments and animate quicker development since you don't need to battle any irritating staying focused. Similarly, the link pulleys all feed off the equivalent 75kg business weight stack, which you can right away increment to 98kg by putting resources into the 32kg weight stack overhaul.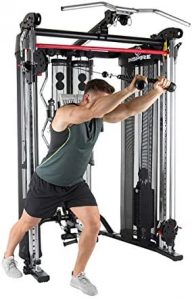 In any case, because the weight stack proportion is 1:2, you just get half of the expressed obstruction. This implies that with the redesign, the greatest obstruction is 50kg per pulley. Taking into account that you can utilize the Smith machine for your weighty compound developments, this is a lot of obstruction for close to 100% of confinement works out.
Also, since this is link obstruction, your muscles are tested through the whole scope of movement, causing the pulleys to feel a lot heavier than freeloads.
Since the upper links are fixed, they promptly increment your solidarity levels by giving additional dependability. This durability is particularly helpful in practices like lat pulldowns and rear arm muscles pushdowns, where you don't need the link sections swinging from one side to another.
Similarly, the 4 lower pulleys are additionally fixed. They attach to the customizable seat, giving quad expansions and lying hamstring twists. Be that as it may, you can likewise perform chest area developments like link lines, bicep twists, and sidelong raises, which all assist to raise your slacking body parts.
The last two pulleys are normal for a conventional link hybrid machine. You can change each link segment north of 32 positions, empowering you to trigger additional muscle development by hitting each body part from an assortment of points.
Pull up Station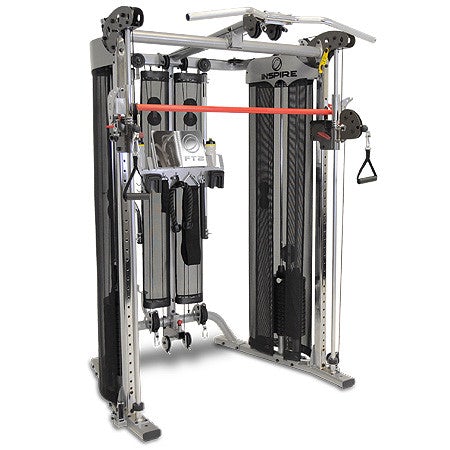 Like most cable machines, the Inspire Fitness FT2 Functional Trainer incorporates a draw-up station. You can set the bar between heights of 211 cm and 224 cm. This customizability is incredible on the off chance that you have low roofs since you can do a full scope of movement pull-ups without slamming your head against the roof. However, on the off chance that you can't do a full scope of movement pull-ups, then, at that point, you can likewise do helped pull-ups with the assistance of the multifunction belt.
Basically, interface the belt to each side of the pulley. Then, at that point, select the weight that you need to offset your body with. At last, push the multifunction connection down with two hands and spot your knees or feet in it.
Leg Attachment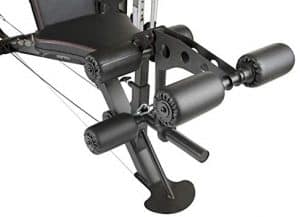 The leg attachment estimates 50 x 53 x 81 cm (L x W x H) and associates with the movable seat to give you back help, which implies that your spinal erectors won't tire before your quads during leg augmentations.
You likewise get a transformation pack to associate the leg connection to the two bottom-most pulleys. This extra provides the station with a demeanor of gym-quality while likewise giving an exceptionally high greatest opposition for you to challenge your quads and hamstrings with.
On the other hand, you can add plates straightforwardly onto the weight horn, which is a savvy method for expanding the opposition significantly further. Also with all that potential obstruction accessible, it's steady employment that Inspire Fitness includes 6 dense foam roller pads to protect our shins and calves from swelling.
Size & Weight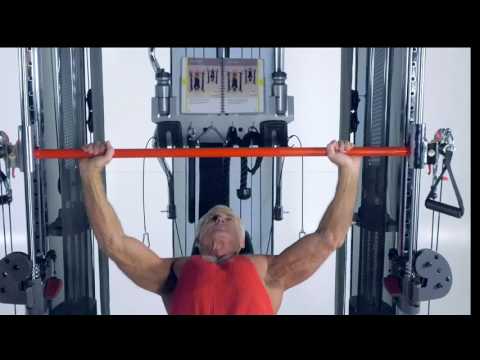 Estimating 148 x 155 x 211 cm (L x W x H) and weighing in at 374kg, the Inspire Fitness FT2 Functional Trainer is without a doubt a heavyweight in the home rec center class. While you may feel that the weight is inordinate, it has some neglected advantages. Also indeed, you can in all likelihood utilize the FT2 higher up with practically no issues.
To begin with, its huge mass makes the unit surprisingly steady, to the place where you don't have to bolt it down. In addition to the fact that this slashes your get-together time, yet it additionally causes you to feel more secure since you realize that the unit won't ever tip advances and cause injury.
Further, the Inspire Fitness FT2 Functional Trainer isn't so weighty as certain individuals portray it. When you factor in the weight plates that you'd need to purchase for a customary home exercise center, you're checking out a tantamount load to the FT2 however without the effectiveness of weight stacks.
Frame & Parts
Like all commercial-grade gym equipment, the Inspire Smith machine utilitarian mentor is produced using 11 measure accuracy steel for a long period of sturdiness. The edge additionally profits by an electrostatic powder coat. How this affects us is that our practical coach can all the more effectively battle off mileage and stay in unblemished, out-of-the-case condition for significantly longer than standard home rec center gear.
On the preparation side of things, Inspire has prepared the pulleys and Smith machine with accurate steel metal rollers. Besides being normally tough, these metal balls likewise dispose of erosion and are the principal motivation behind why the pulley and hand weight lifting movements feel so smooth. At long last, the links have a 907kg elasticity, which is the most extreme obstruction they can endure without snapping.
Assembly & Maintenance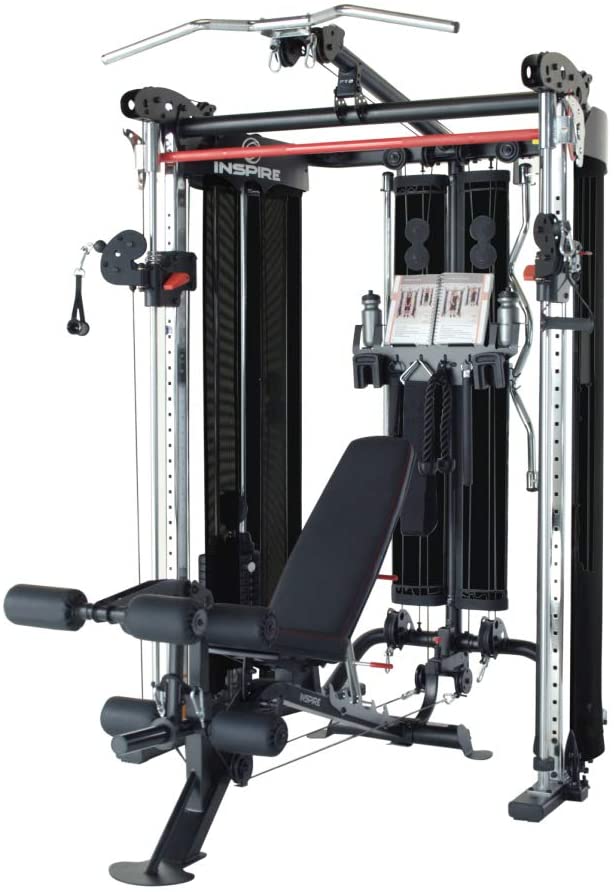 The Inspire FT2 requires a lot of assembling. It comes packaged in several boxes and their transport is recommended to be done by two people. The included manual provides very clear, step-by-step assembly instructions, but due to the many parts and bolts, the process will most likely take several hours. The tools required for the assembly are not included, so you will need a set of wrenches or two adjustable wrenches, a Phillips screwdriver, and a rubber mallet. Also, during the assembly, it is recommended to add a bit of grease on each pulley to promote its perfect functionality for a long time.
Once the machine is assembled, its maintenance doesn't require much. The guide rods of the weight stack may require a bit of lubrication from time to time so that the plates move smoothly on them. The pulley may also require lubrication.
Warranty
Inspire Fitness backs their FT2 up with a limited lifetime warranty for the frame, parts, and all moving parts. That means for residential use, this entire trainer is backed with a lifetime warranty. It's also backed with a light commercial use warranty: lifetime frame, 10-year parts, 10-year moving parts.
This awesome warranty sums up everything for this gym: high-class all around. The fact that it's also qualified for light commercial use tells us something about the quality of its construction.
Summary of Features
A mid dual pulley system

Has dual low pulley for seated rows

Has an adjustable bench

Comes with a leg kit and leg extension attachment

Heavy-duty steel frame with powder coat finish

Can upgrade to dual 200-pound weight stacks

Force multiplier to double resistance

180° pivoting adjustable pulleys allowing a natural, healthy range of motion for all exercises

Has Smith bar, Pull up bar, Dual weight stacks, and 6 pulleys.

Commercial grade construction & patented engineering make the FT2 Functional Trainer a fan favorite.

A fully integrated selectorized smith machine sets this functional trainer apart.

Eight possible pulley positions; 2 narrow high, made up of 2 wide & 4 narrow low pull points.

Several accessories were included. These are 2 Rubber D Handles, Triceps Rope, Dual Hook Straight Bar, Ankle Strap, EZ Curl Bar, 2 Water Bottles, Sports Handle, Exercise Booklet & Multi-function Belt.

10-year warranty on frame and parts
Pros
Versatile

Commercial grade frame

Adjustable pull-up bar

Lifetime warranty

Multi-Pulley Point System

Fully functioning Smith machine

Smooth pulley and cable movement

Heavy-duty construction, excellent stability

Extremely sturdy structure and stable frame

Comes with a lot of attachments and accessories
Cons
Bench not included

Large footprint

Challenging assembly

Higher Learning Curve than Traditional Strength Machines

Heavy structure machine, difficult to move once it is assembled
Final Words
The Inspire Fitness FT2 Functional Trainer is most likely the best high-end home gym out there. Yes, it is very expensive, but it is also extremely durable, it has a ton of function, lots of possible exercises, and a huge amount of weight and resistance that can be provided for you. If you are serious about strength training, this is a model you want to consider.
Frequently Asked Questions
1. Is Inspire Fitness a good brand?
The quality of the Inspire Fitness FT2 is commercial quality. This gym can target every muscle group that a commercial gym can offer. The cables and smith bar move as smooth as butter on glass. The company has great customer service and stands by its product.
2. Are Smith machine dead lifts bad?
Using a smith machine to learn and practice dead lifts is very dangerous. The dead lift is a compound exercise designed for engagement of all your muscles to pull the bar from the floor up and lock it out. This must be done using a barbell. Smith machine mechanics may cause injuries even with small loads.
3. What is the difference between inspiring FT1 & FT2?
The biggest difference between this machine and the upgraded FT2 is the inclusion of a Smith bar. You'll notice there's no such apparatus on this trainer. The Smith bar on the Ft2 is unique and pretty amazing, but the FT1 can cut about $1500 off the asking price by eliminating it from this model.
4. Can you squat on a functional trainer?
Squat Variations. The squat is another standalone move that can be intensified with a functional trainer or cable machine. Adding the resistance of the functional trainer is a guaranteed way to build a powerful lower body. One variation you may try is very similar to goblet squats.